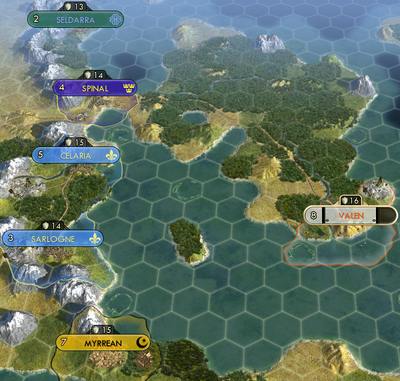 Informações que se aplicam para o mundo como um todo.
Eos é um mundo de High Fantasy, o que significa que o sobrenatural é parte comum do dia-a-dia para a maioria das pessoas da região. Uma diversidade muito grande de personagens tem como funcionar bem na ambientação.
O Império que uma vez reinou sobre a maior parte da região está caindo gradualmente no decorrer de séculos. Com isso, a cidade de Valen e a península onde ela está conseguiram sua independência, mas agora também estão expostos a novas ameaças.
Recentemente, um ataque de mortos-vivos devastou a região. Uma aliança de cidades-estados e ducados da região foi criada para se defenderem de ameaças como essa, mas a maior parte da península permanece em caos.
Ad blocker interference detected!
Wikia is a free-to-use site that makes money from advertising. We have a modified experience for viewers using ad blockers

Wikia is not accessible if you've made further modifications. Remove the custom ad blocker rule(s) and the page will load as expected.